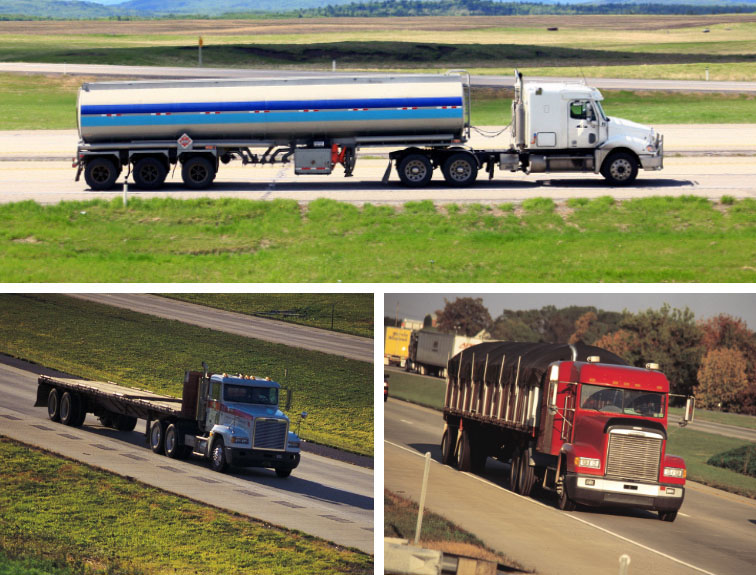 All right, you got your CDL, now what? There are many options to find the job you will like the most. We will start with the careers that are the most well-known and obvious for when people think of CDL and then we will continue with jobs that are not so common and are not over-the-road.
Commercial Truck Driver
A commercial driver operates tractor-trailers and other large vehicles and can transport any type of load. They usually require weeks of driving and adjusting to a new lifestyle.
Team Driver
Team drivers are able to do the same work as any commercial truck driver, except it is twice as fast for the same route. This is a welcome sign to a lot of companies that would prefer their loads to be delivered quicker, and therefore will pay more to team drivers.
Delivery Truck Driver
Delivery drivers are essential to thousands of businesses across the nation. Grocery stores need drivers to deliver goods such as fruits, vegetables and others. Bakeries need them to move their products locally. Furniture stores often need someone that can both drive and set up their products. The most various cargos need to be transported fast and safe all the time. Some major delivery companies include FedEx, UPS, USPS, and many other delivery companies. Some of these companies require a seasonal driver only, someone who can drive when the need is at the highest point of the year.
Dump Truck Driver
The most common duties of a dump truck driver is load and unload materials, transport loads from one place to another in a suitable time frame, verifying material weight, maintaining the truck clean and in good condition, and even operate other types of equipment.
Tow Truck Driver
Sometimes you are restricted as tow truck driver if you do not have a CDL. For example, you are allowed to tow any vehicle from a scene of accident, however, you would need a CDL to tow the vehicle away on the road. Having a CDL will allow you to tow any heave machinery, tow vehicles and work in a tow yard.
Bus Driver
Instead of driving a semi-truck, you could give buses a try. You will be transporting passengers all over the city, meaning that most of the openings are local so you won't be away from home for too long. You could also do school, sightseeing or drive charter busses.
Fire and Rescue
Even though you are not required by law to have your CDL to be a fireman, a lot of companies still require a Class A or Class B CDL license so if you are interested in this career and have a CDL all doors are open for you!
Instructor
Not every job in the trucking industry needs to involve trucking or be on the road. Some people need to teach others how to do it! If you enjoy working with people and none of the above jobs satisfies you should consider then becoming a CDL instructor. You can teach new drivers the rules and ways of the road, coach trainees how to operate a truck safely and make the roads are safer.
Dispatcher
Being a dispatcher can be an amazing career choice. It is a person behind the phone, taking driver and load information and sending out the necessary information to companies. You would need to have great communication skills and be able to stay organized. Sometimes it may require to be available outside of the normal office hours since there are drivers on the road at all times and the dispatcher takes care of the load and driver updates, tracks the vehicles and is the connection between the driver and the carrier.