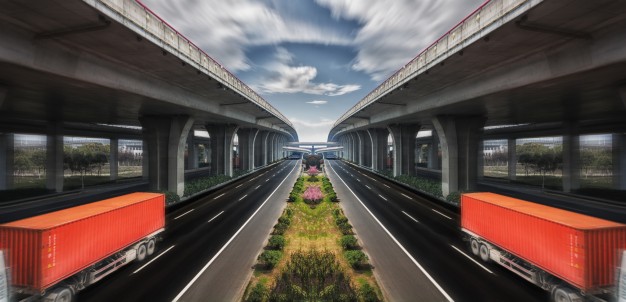 No matter what industry you're in, the first year is going to be the hardest one. It is also true about the trucking industry. When you begin your new truck driving job, you'll understand that there are a lot of things you still need to learn like getting familiar with the truck you drive, utilizing your new driving skills and getting accustomed to the lifestyle. A first-year truck driver has an opportunity to see the country, sometimes even Canada and Mexico, and also to develop their driving skills. As a first-year truck driver, you'll have positive and negative aspects of a truck driving, but in the end it's always worth it.
GETTING DRIVING EXPERIENCE WITH A DRIVER TRAINER – There's a pretty good chance that, a good portion of the first year as a new truck driver you'll be doing your routes with a driver trainer. So it can be either a very good or a very bad experience depending on who your driver trainer is. They also don't want to spend so much time with another driver in such small truck cabin. Try to understand each other better and use this time to gain knowledge and experience from your trainer.
SAFETY ON THE ROAD – One of your most important goals on the road is to minimize the chances of having an accident. Accidents are very common in that first year as a truck driver. In the first year, a truck driver has the challenge of getting used to the truck. Many incidents are preventable, try to avoid accidents. They will show up on your driving record, and also they can be expensive. The best thing is that the accidents could end up costing you your driving job.
THE WORST ROUTES FOR A FIRST YEAR TRUCK DRIVER – You may have completed CDL School at the top of your class, but you still need to prove yourself in the "real world." As a first-year truck driver, you'll more than likely get the worst routes that are left over. Don't take it personally. It's simply the nature of the business. You're a new, untested, and still learning truck driver. You will have a good opportunity to have a great learning experience. Despite the poor routes you may have as a first-year driver, you can collect as many miles as possible, it is the most important thing you can do in your first year.
BE READY TO BE AWAY FROM HOME – As a new truck driver, you won't have the ability to get favorable routes and times. So be ready to spend a lot of time on the road, away from your home, family. It's not as easy as you may think. Being alone for long periods of time can be difficult emotionally on some truck drivers. Loneliness, anxiety and depression are common issues truck drivers face. A trucking career can influence both on the physical and mental health of a trucker. Your family also needs to know what to expect from your job, and be prepared. It's a negative part of the lifestyle of a trucker. Remember that your loved ones are the reason you work so hard.
TIME IS MONEY – Such cliché "time is money" is especially true to the trucking industry. Your time spent on the road is money for both you and for your employer. A first-year truck driver must learn how to manage the time properly as well as trust with their dispatchers and employers. They can trust you if know you will deliver a load in the expected timeframe. You're your own boss on the road and you have to do your absolute best to deliver the order on time. To start your career as a truck driver will be a challenge, but the benefits are worth it. Having mental toughness and reasonable expectations, you will success at your first year of the trucking industry.