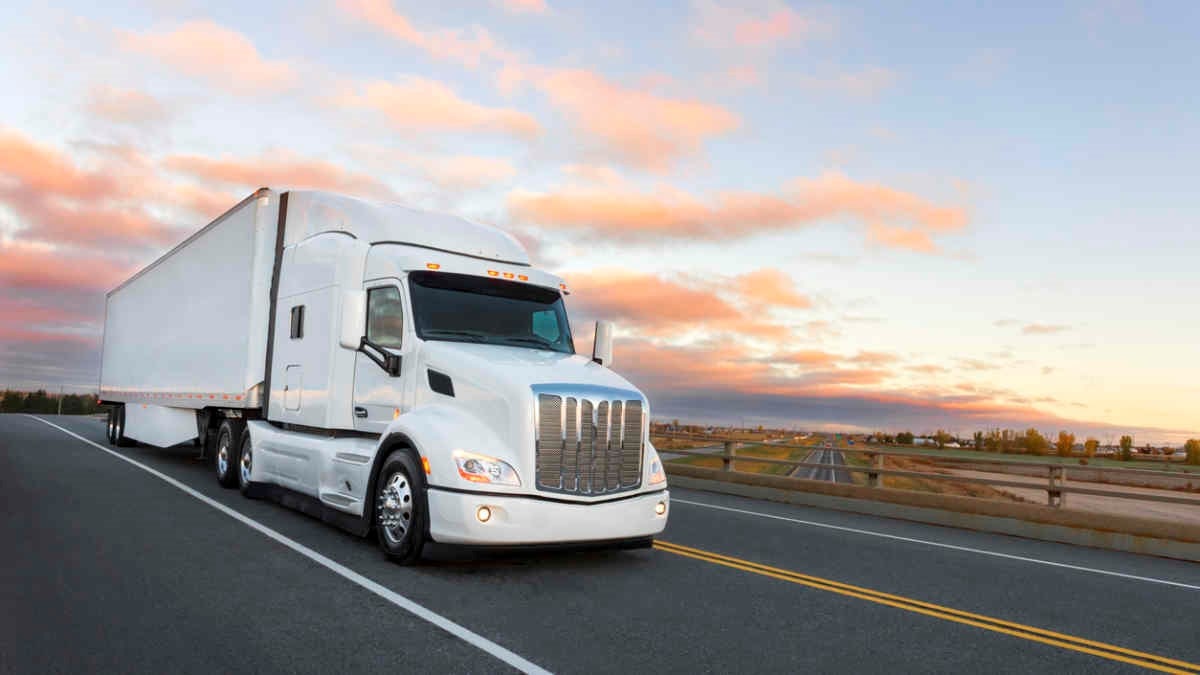 Are you thinking about becoming a Commercial Truck Driver? Then the first step would be to analyze the supply and demand in the trucking industry. Since 90% of all consumer products and food in the world are transported by a truck to their final destination, a truck driver is very much needed for the growth of an economy. The salary of a truck driver is dependent on various factors such as where they are based, the distance traveled, the size of the vehicle, the hiring company size, seniority, driver qualifications, working conditions, pay structure etc. This comprehensive guide analyzes what you can make as a truck driver based on our own company statistics.
NSTS is a Commercial Driving School founded by New Sound Transportation and HaulCars.com, therefore the data used in this analysis is based on our current data of the drivers' wages for our companies.
Our trucking companies operate in several industries, specifically, car hauling and cargo transportation. The demand for such services is variable, with peaks and periods of recession, but the most important thing is that recession periods do not coincide in time, and this provides companies like ours with financial stability, and our drivers with constant income.
It is probably clear that pricing in the car hauling, and cargo transportation industries are different, and depend on the destination, time of year, season, and competition. Here are our statistics: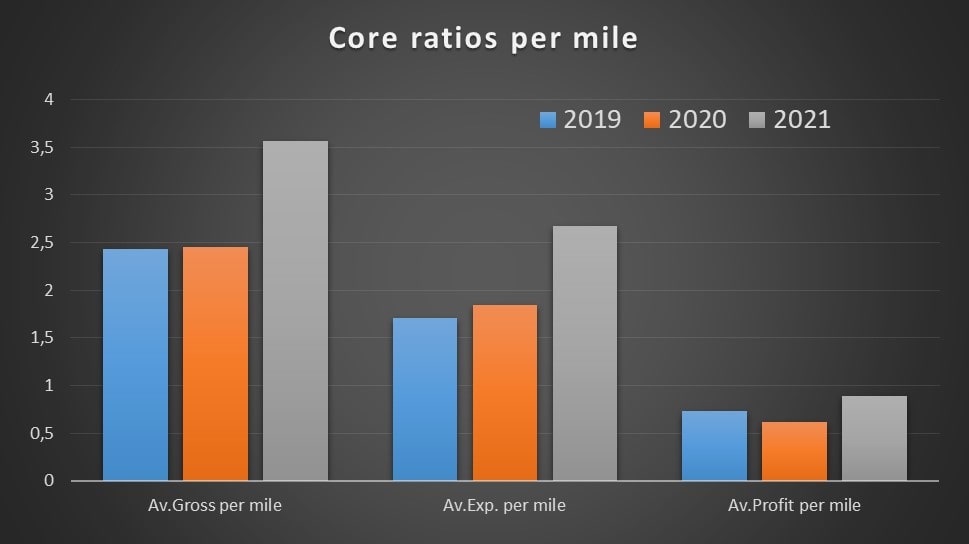 So, our truck companies in 2021 (through November) earn an average of 3.6 dollars from a mile. This is 45% more than in 2020, the year the pandemic began. Costs have risen proportionately, mainly due to rising fuel prices and higher wages (due to driver downtime during the pandemic), but profits have also risen. Until 2019, the entire truck industry earned more, but due to the fact that in 2019 an embargo was introduced on certain imported goods and import substitution was actively promoted. This had a sharp negative impact on states with a developed transport infrastructure, such as, for example, the state of Washington, in where we live and work. Due to a sharp drop in demand for freight and a sharp decrease in the volume of goods transported, many transport companies closed in 2019. Even with this, experienced drivers continued to be in high demand.
As for the driver's earnings, this amount is always proportional to the average income per mile. This is true for both W2 and self-employed drivers filing 1099. So whether you are an employee driver or self-employed status, you will earn about the same in the truck industry. This is due to expenses such as repairs, etc. as some drivers are take better care of their vehicles than others. The proportion of repair costs for car haulers is higher due to increased operation, but on average it is 11-15% in the total costs of our trucking companies. And the average growth is the same. For comparison, the share of wage costs is 32-35%.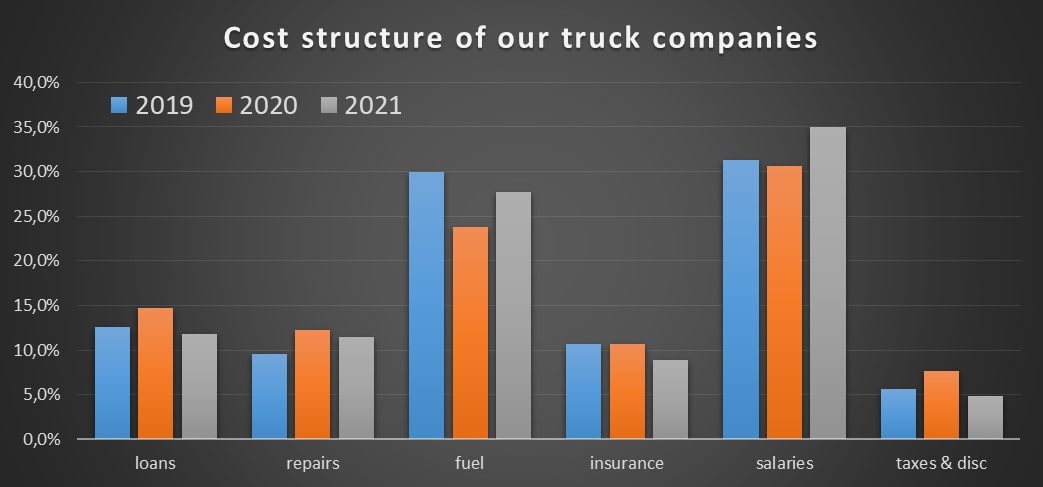 It is interesting to note that wages are growing, our transport companies in 2021 amounted to 35%, while in 2019-2020 it did not exceed 31%.
The beginning of an increase in demand for transportation services began in 2021, so we tend to consider this at least in the state of Washington.

The table data is the real data of our trucking companies for the period 2019-2021. The dynamics of drivers' wages is positive. So at the beginning of the pandemic, the level of wages for Car Haulers drivers first decreased by 8.1%, but in 2021 it increased by 48.7% to 7.3K per month. We attribute the decrease in 2020 to travel restrictions due to the pandemic as the demand for vehicle transportation services decreased. The decreased sales of new cars also reduced the demand for their transportation across the United States.
Regarding the transport of food and household goods, the demand for such services was less affected by the pandemic and depression in the industry due to commodity embargoes, which increased the growth of drivers' wages by 7.7% in 2020 to 15.3% in 2021.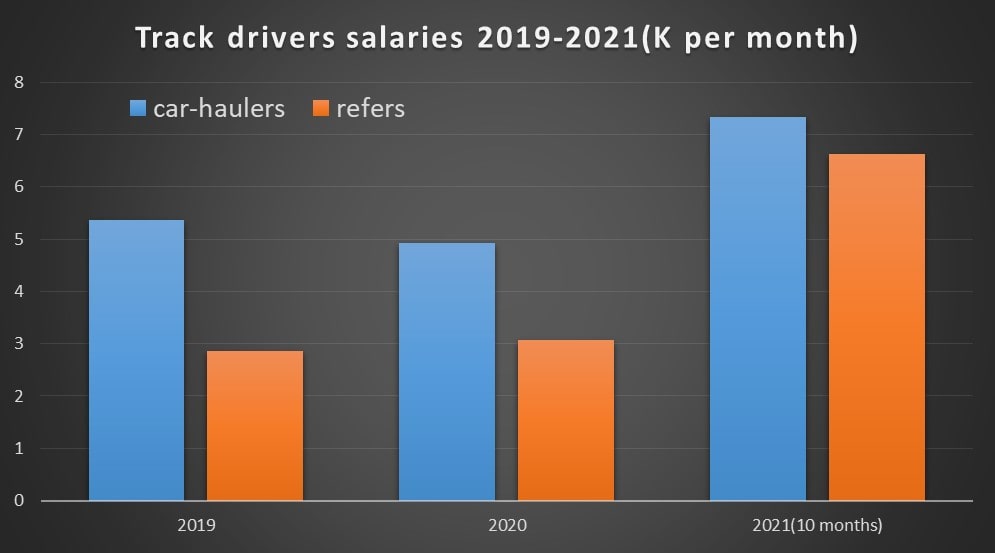 Of course, this analysis is local, because it analyses the trends and market restrictions in the state of Washington in terms of classic cargo transportation, but for car haulers, our company provides services almost throughout entire United States, and this is also not the last argument in terms of a significant increase in the level wages of car haulers drivers.
Future CDL Drivers: Remember that the cost of repair and maintenance for one truck can reach up to 40K per year (30% of its average cost), and this is with normal operation of the track without major repairs. You can reduce these costs by learning to drive a truck properly, this is also the key to a stable and good income.
In conclusion, in 2020 local trucking companies did not set themselves the task of obtaining excess profits, as most of them attempted to retain staff. However, in 2021, we not only maintained, but also managed to increase our drivers' wages. As of November 2021, our drivers earn between 80K/Year for Cargo Transportation to 88K/Year for car haulers, excluding bonus payments. The Washington state average ranges from 80K per year to 100K with bonus payments.
If you're unhappy with your current truck driver salary, or are considering a new career as a trucker, it's important for you do some research. While moving across state lines isn't achievable for everyone, it could make a huge difference in how much you're paid and knowing where your state's trucker salary stands in relation to others is key to understanding how well you're compensated.
The demand for professional truck drivers is growing faster than the number of new drivers entering the field. By receiving your commercial driver's license today, it's almost certain there will be a job available to you tomorrow. Contact us at 253-210-0505 for more information today.